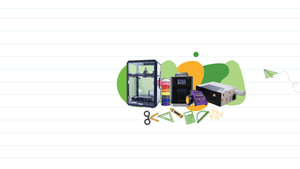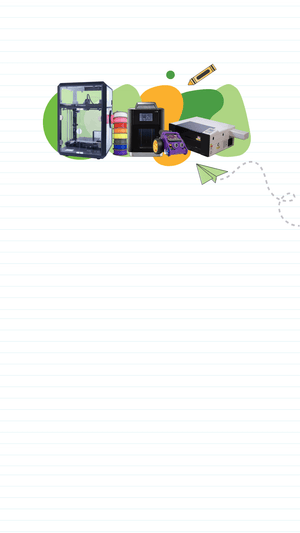 Save on Robotics Kits, PLA+ Filament, & More!
InkSmith is an education technology company that specializes in introducing 3D printing, coding, robotics, and other 21st-century makerspace technology into the classroom to empower purpose-driven learning. Our goal is to help students build STEAM, digital and problem-solving skills while providing educators with training, tools, and resources to support this learning in the classroom.
Makerspace & STEM Technology
InkSmith's three areas of focus:
Technology & Digital Skills
InkSmith's 21st-century technology solutions provide accessible and easy-to-use learning opportunities for classrooms, libraries, and makerspaces.
Purpose-driven learning
Our content is developed around real-world context and global connections with the goal of creating equitable learning opportunities for all.
Professional Learning
We know that educators need to be supported with resources in the classroom in order to drive change. We offer professional learning sessions to equip educators with the confidence to teach students 21st-century digital skills and STEM competencies.
Building critical
Digital & Problem-solving skills
Many educators find it difficult to provide enriching learning experiences in specialized future-focused areas like coding.
We help educators build confidence in these areas by providing context, curriculum-connected lesson plans, and hands-on learning opportunities.
Future-focused
Learning Outcomes
We help educators make learning new skills fun and rewarding while also achieving learning outcomes.
By improving pedagogy and proficiency in technology across the board, we help make education more equitable and provide opportunities for all students to achieve their goals and contribute in their future careers.
Empowering the next generation with...
Pedagogical Principles
Universal Design for Learning, Design Thinking, Computational Thinking, and other Global Competencies are at the core of everything we do.
OUR CURRICULUM
21st-Century Technology
Integrating 21st-century technology into the classroom is key for preparing and equipping students with the skills they'll need for the future.
Our Technology
Global Connections
Purpose-driven learning with Global Connections and Competencies is crucial for providing meaningful learning experiences for students.
OUR APPROACH