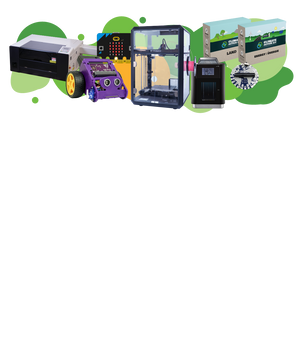 21st-century technology for education
Industry-Standard
3D printers
3D printers can open up a world of possibilities for design thinking, problem-solving and creativity in the classroom.
InkSmith's selection of 3D Printers are perfect for the library, makerspace or classroom. They're packed with industry-standard specifications as well as advanced safety and usability features.
Coding and
Robotics
Comprehensive coding and computational thinking skills are critical for students and their future careers.
Paired with the BBC micro:bit, k8 and the Climate Action Kit are the perfect accessories for building coding skills in the classroom. From block-based coding to Javascript, the micro:bit is the perfect way to interact with coding in the real-world.
Advanced Makerspace Tools
Laser Cutters
Laser cutters are the ultimate prototyping tool for any makerspace. Cut and engrave on a variety of different materials including wood, acrylic, leather, and many more.
With a Class 1 Safety rating and multiple safety features, the Mako Laser Cutter is the ideal choice for education.
Replacement and Consumable
Parts & Accessories
InkSmith has all the replacement and consumable parts & accessories for your 3D printers and laser cutters.
From replacement filters and nozzles, to a variety of filament colours - we have everything you need to keep your machine up and running.
Implementation & Rollout
Introducing new technology into the classroom is no easy feat - for both students and educators.
InkSmith has worked with hundreds of school boards across Canada to bring 21st-century technology into the classroom. From purchasing to delivery and training, the InkSmith team is experienced and equipped to make implementation and rollout at your school or school board seamless.
Trusted by