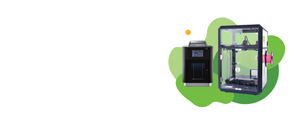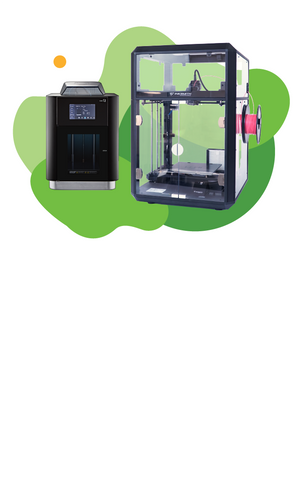 for Schools, Classrooms, and Libraries
WHY 3D PRINTING?
3D printers in the classroom have the potential to unlock an unlimited amount of experiential learning opportunities for students.
From math to science, and history to art, 3D printers provide an engaging interactive way for students to build critical digital skills while also being immersed in the school subject matter
Inspire
Problem-Solving
With 3D printing, students have endless possibilities as to what they can design and create. From 3D modelling to actually printing their creation, students will challenged to problem-solve throughout the entire process.
Build
Digital Skills
With 3D printing, students will develop an understanding of 3D modelling and 3-dimensional design. Using student-friendly software like Tinkercad, students will be able to design any 3-dimensional model they can imagine.
Empower
Hands-on Learning
With 3D printing, students can bring their ideas and designs to life. They'll be able to prototype and iterate on their design as if it were a real product.
From anatomical models to historical artifacts, or anything you can 3D model, tactile 3D prints provide the ultimate hands-on learning experience.
WHAT'S INCLUDED?
Integrating new technology into the classroom can be complicated - but it doesn't have to be. We include everything you need to get started, including curriculum, support, and resources.
The InkSmith 3D Printing system has been designed and tested for Canadian classrooms.
With industry-standard technology and the safety features required by school boards - you're getting the best of both worlds.
View Curriculum
The InkSmith Tech Support team is here to support all your 3D printing troubleshooting.
With extended warranty packages available, our tech support team will set you up for success in your school or classroom.
Contact Tech Support
With every 3D printer purchase you'll gain access to the browser-based slicing software.
With slicing software, it makes it easy for students and teachers to use 3D printers in the classroom.
View Launchpad
Need more information?
Get a Quote
InkSmith can provide a custom 3D Printers quote for your classroom, school, or school board.
Get a quote
Have questions?
From technical specifications, to safety features and implementation - our team is here to answer all your 3D printer questions.
Contact Sales
Product Collateral
Need to provide additional product info? Download our product one-pagers, manuals, or warranty information.
Learn More