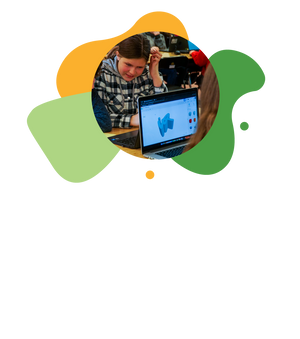 Meaningful experiential learning opportunities in future-focused topics.
Our curriculum is designed to create purpose-driven learning opportunities and STEAM skills.
InkSmith's educational curriculum is developed using the Universal Design for Learning approach. Our goal is to create engaging experiential learning opportunities that are accessible and approachable for all learners.
Online
Educator Resources
Educators can access our online learning management system for engaging learning content around our Climate Action Kit, k8 Robot, and 3D printers.
Our online curriculum platform is home to a variety of different courses, lesson plans, and presentation-ready content for delivery in the classroom.
Classroom-ready Content
Our Climate Action Kit bundle includes access to multiple courses based around climate change issues and physical computing.
Each course/module includes comprehensive curriculum connections and an extensive slide deck of content ready for delivery in the classroom.
Available in English & French
Step-by-step Instructions
Our k8 Modular Robotics bundle includes step-by-step instruction on how to build and code your micro:bit robot.
From driving to remote control and line following, our k8 courses are the perfect introduction to robotics and coding with the micro:bit.
Available in English and French
Different ways to use the platform:
Educator Access
We recommend that educators access the curriculum platform and modify the content for their classroom needs in courses like such as our Climate Action Kit.
Educators have full control to tailor the platform's content to the desired grade range, length, and experience of their students.
Student Access
Our k8 Robot course is designed to be an opportunity for self-directed learning. Students can progress through the courses on their own, at their own pace.
For student access, users will need to either create their own platform login, or share a login with fellow students.
Designed around
Global Competencies
The content on InkSmith's curriculum platform has been specifically design and built around a number of global competencies and pedagogies such as Design Thinking, Computational Thinking, Universal Design for Learning, and the United Nations Sustainable Development Goals.