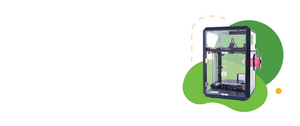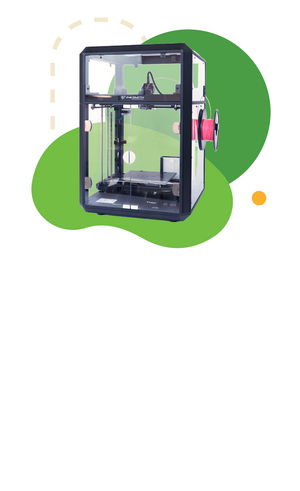 FILAMENT TYPE
PLA, ABS, ASA, PETG, TPU/TPE, & more
BUILD VOLUME
BED TYPE
Automatically heated and leveled bed
Description
The all new InkSmith Makerforge is the best-in-class for 3D printers in education. With a huge 232mm x 212mm x 301mm build volume you can make big prototypes or fit an entire class's worth of models in just one print. With all the latest technologies, this printer is extremely easy to use no matter what your experience level. 
Watch your designs come to life with large access doors and clear panels for easy and safe viewing. With a rigid all aluminum body and easy to access components this printer is built to last and be easy to maintain.
Features
Automatically heated and leveled bed
Prints high quality at high speeds
HEPA/Carbon Purafil filtration
Intuitive and easy-to-use touchscreen interface
Very quiet operation
Supports various types of filament

Uses modular type extruder for easy exchange

Temperature controlled chamber
Self-checkup function for core components

Built-in filament runout detection

Large, clear viewing panels for watching your prints take shape
Technical Specifications
Build Volume: 232mm x 212mm x 301mm
Layer Height Settings: Up to 100 microns max
Print Speed: 150 mm/sec
Nozzle Diameter: 0.4 mm
Filtration: HEPA 13/carbon
Filament Diameter: 1.75 mm
Filament Type: PLA, ABS, PETG, TPU/TPE, and more
Nozzle Temperature: 260°C max
Bed Temperature: 120°C 
Connectivity: WIFI USB/PC and USB Flash Drive
Local Storage: 8 GB
Slicing Software: Launchpad3d.ca and Cura
Machine Size: 483mm x 483mm x 724mm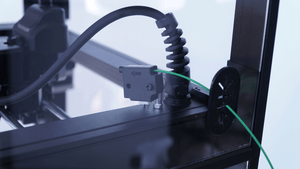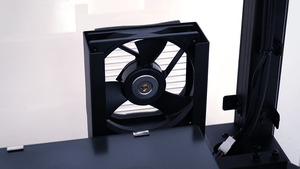 automatically
HEATED & LEVELED BED
No more print failures due to poorly levelled beds. The Makerforge automatically heated and leveled bed also eliminates the need for adhesives.
EASY-TO-USE
TOUCHSCREEN INTERFACE
Intuitive touchscreen makes it simple to navigate the printer menu and make adjustments.
HEPA CARBON FILTRATION
HEPA-13 filter removes 99.97% of airborne particles down to 0.3 microns, activated carbon removes harmful VOCs and Purafil catalyst removes odours from the print chamber.
Download
Product One-Pager
Technical specifications, details, pricing in a downloadable, shareable PDF.
Get a Quote
InkSmith can provide a custom 3D Printers quote for your classroom, school, or school board.
Get a Quote
Have questions?
From technical specifications, to safety features and implementation - our team is here to answer all your 3D printer questions.
Contact Sales
Product Collateral
Need to provide additional product info? Download our product one-pagers, manuals, or warranty information.
Learn More