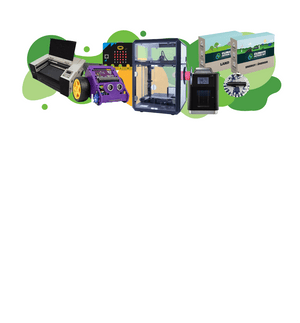 For the 21st-century classroom
At InkSmith, we help students build critical STEAM, digital and problem-solving skills and equip educators with the training, tools and resources they need to support 21st-century learning in the classroom.
MAKERSPACE & STEAM TECHNOLOGY
ROBOTICS KITS FOR SCHOOLS
Build STEAM principles into your curriculum with micro:bit-powered robotics kits for the classroom. Students of all learning levels will be encouraged to think critically and build the confidence needed to solve complex problems in the real world.
Regardless of your skill level, background, gender, or experience, our robotics kits provide inclusive hands-on learning opportunities for Canadian students.
3D PRINTERS AND LASER CUTTERS
Unlock an unlimited amount of experiential learning opportunities for students with 3D printers and laser cutters for the classroom.
From math, science, history and art, both 3D printing and laser cutting provide an engaging, interactive way for students to build critical digital skills while immersing themselves in the subject matter.
Professional Learning
Develop the confidence to deliver effective STEAM learning in the classroom through interactive and collaborative professional development sessions.
LEARN MORE
Student Workshops
Enhance learning outcomes with engaging experiential student workshops focused on developing digital skills through hands-on activities and projects.
Learn More
MEET THE INKSMITH TEAM
YOUR EDUCATION EXPERTS
Our team of educators, creators, and technology enthusiasts come from a variety of disciplines and backgrounds. Together, we form an incredible group dedicated to driving meaningful change in Canadian classrooms.
Whether you're looking for a quote on your next classroom purchase or more information on our training for educators, contact our team today.