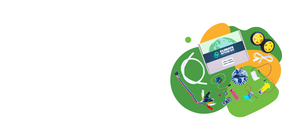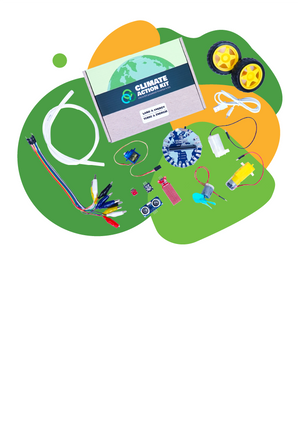 COMBINED Climate
Action Kit
micro:bit-powered coding & robotics kit

About the NEW Combined Climate Action Kit (Land + Energy)
Welcome to the new combined Climate Action Kit! This new kit combines all the robotics parts and coding projects from the Land kit and Energy kit into one universal Climate Action Kit!
The Climate Action Kit is designed to empower students to tackle climate change issues while learning important digital skills. The goal of the Climate Action Kit is to inspire students to recognize and solve problems in a creative and empathetic way. 
Students will explore the United Nations Sustainable Development goals while making connections between them and the climate change issues we're facing. After learning the background and context of each issue, students will design and prototype a solution using the kit components and a BBC micro:bit.
Grade Level: 2-12 

Skill Level: Beginner to Intermediate

Recommend: 1-4 students per kit
1 micro:bit required per kit (not included)

All robotics parts in the kit are designed to be disassembled an reused

Every kit includes access to InkSmith's online learning platform for Teachers (Educator Guide, Tips & Tricks, curriculum connections, and classroom-ready presentation materials)
What's New
With the new Combined Climate Action Kit, you'll gain access to all 6 coding projects from the previous Land and Energy kits. The new Combined Climate Action Kit contains all the robotic parts you'll need to complete a variety of different projects related to climate change issues on Land and sustainable energy solutions.  
1 x Climate Action Globe Breakout Board

10 x Alligator Clips
1 x DC Water Pump with tubing
1 x DC Motor
2 x Wheels
1 x DC Fan Motor
1 x Servo Motor
2 x Moisture Sensor
1 x Touch Sensor
1 x Sonar Sensor
1 x Photoresistor Sensor
1 x USB Cable
Not Included:
BBC micro:bit - at least one micro:bit is required to complete each project
Additional arts and crafts materials for certain projects and extension activities (ex. cardboard, glue, cup, etc.)  
Project Modules:
Wind Energy: 

Explore how wind energy can be harnessed and used as a renewable and sustainable energy

solution

. Students 

will use

the robotic parts in the kit and found

materials

to build and code a wind turbine equipped with an RPM counter to measure the turbine's revolutions and power generation.

Solar Energy: 

Learn how

the sun affects our environment and how its energy can be harnessed as an amazing renewable energy source. Students will use the robotic parts in the kit and found materials to build and code a simulated solar array that can detect light and move into

the optimal position to harness solar energy.

Electric Vehicles: 

Discover how traditional combustion engines are affecting our environment and how electric vehicles offer a sustainable method of transportation. Students will also learn about how electric vehicles store energy from the power grid and the future of electric autonomous vehicles. Students will then build and code an electric autonomous vehicle of their own using the robotic parts in the kit and found materials. 

Plants & Pollinators: 

Understand how pollinators affect the greater eco-system and impact things like agriculture and climate change.

To help track the bee population at their school, students will build and code a monitoring system using the robotic parts in the kit.

 

Advanced Agriculture: 

Learn how sustainable farming practices are helping to combat cli

mate change issues like methane emissions, agricultural run-off and algae blooms. Students will th

en build their own hydroponic watering system using the parts in the kit as a

solution to sustainably grow

plants!

 

Deforestation: 

D

iscover how

the rainforest and biodiversity play an important role in climate change. Students will also learn about innovative ways forests are being replanted around the world.

Students will then build and code their own re-forestation solution by constructing a tree seeding machine using the parts in the kit and found materials.
Access both
Land + Energy Curriculum content
With the Combined Climate Action Kit, you'll receive a coupon code to access a new bundle of Land and Energy online courses.
These courses contain comprehensive educator guides, tips & tricks, and classroom-ready presentation materials to complete 6 different coding & robotics projects!
Classroom-Ready Materials
Developed by our in-house education experts, every Climate Action Kit includes access to our online library of classroom-ready presentation materials for educators. These comprehensive materials are designed for Educators to customize and modify to meet their specific teaching goals.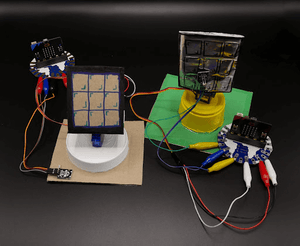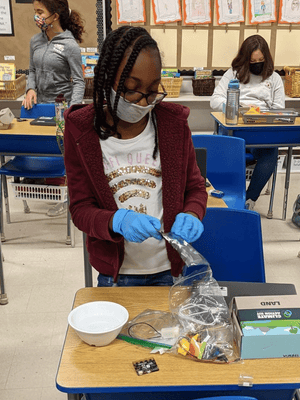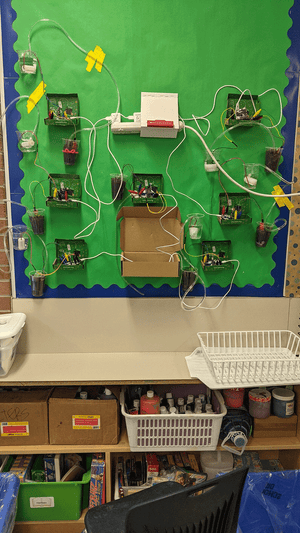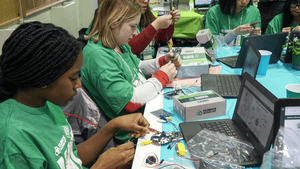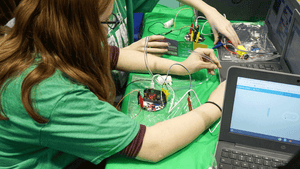 Built around the
UN Sustainable Global Goals
The United Nations Sustainable Development goals play an integral part in the design of the Climate Action Kit content. Each project module is linked to a specific Global Goal to empower purpose-driven learning with real-world connections.
Breakout board &
Robotic Parts
The Climate Action kit comes with all of the robotic parts and components you'll need to build a variety of working prototypes.
The proprietary Climate Action Kit breakout board and the BBC micro:bit allow you to power servo motors, DC motors, sonar sensors, and more!
Download
Product One-Pager
Technical specifications and product features in a downloadable, shareable PDF.
Get a Quote
InkSmith can provide a custom 3D Printers quote for your classroom, school, or school board.
Get a Quote
Have questions?
From technical specifications, to safety features and implementation - our team is here to answer all your 3D printer questions.
Contact Sales
Product Collateral
Need to provide additional product info? Download our product one-pagers, manuals, or warranty information.
Learn More